Complimentary Membership to MetroFit Fitness Center
---
Looking for apartments with a fitness center in Philadelphia? The benefits of exercise abound—weight management, stress reduction, mood improvement—and, especially as we get older, the need for physical activity becomes increasingly more important. However, with busy work schedules, social lives, and other obligations, it can be hard to make time to build gym visits into our daily routines.
Fitness Opportunities at Chocolate Works
Trekking across the city after work to compete for treadmill space or take part in cramped exercise classes can be a significant deterrent to keeping us on our path to fitness. That's among the many reasons apartments with a fitness center are a smart choice.
Having an exclusive exercise space near home makes fitness goals seem much more attainable. At The Chocolate Works, residents can take advantage of an on-site fitness center as well as a complimentary membership to MetroFit, a comprehensive fitness center offering options to suit all exercise abilities and interests—available exclusively for Reinhold residents.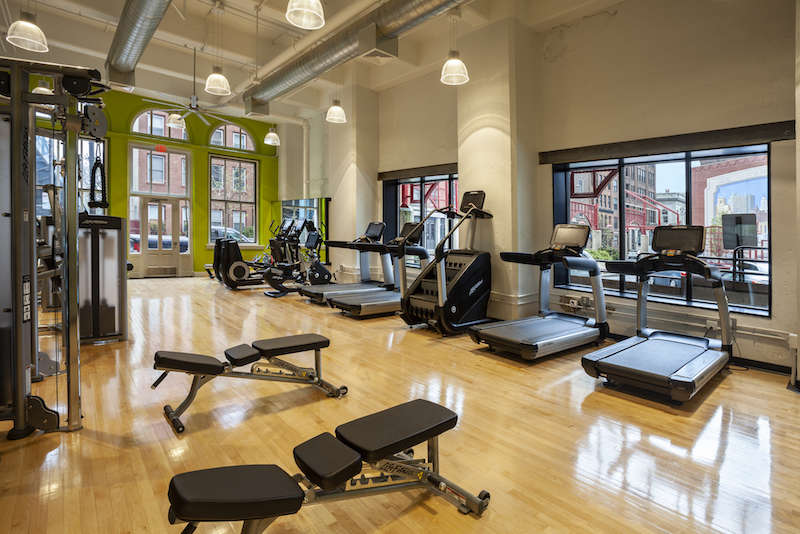 Complimentary MetroFit Membership
Located at The Metropolitan, just 10 minutes from The Chocolate Works, MetroFit is the largest residential fitness facility in the entire city, providing ample opportunity for residents to break a sweat without being shoulder-to-shoulder with other gym-goers. Housed in the city's first YMCA, MetroFit offers an architectural model that Chocolate Works residents will be used to: an expansive facility that embraces its historic charm—which dates to the 1920s—but offers state-of-the-art, technology-infused luxuries designed to meet the needs of today's busy professionals.
For those seeking a cardio workout, MetroFit provides treadmills, recumbent and upright bikes, adaptive-motion trainers, and cross-trainers. Free weights and pulley machines can help residents reach their goals of getting toned. Those looking for a more interactive experience can sign up for one of the gym's many fitness classes or join a basketball or dodgeball league—getting fit while making friends!
On-site Exclusive State-of-the-Art Fitness Center
Center City gyms often come with a costly price tag. However, as a resident at The Chocolate Works' apartments, you'll enjoy the benefits of an exclusive on-site fitness center on top of complimentary membership to MetroFit. Our on-site state-of-the-art fitness center features numerous cardio and weight machines including treadmills and bikes. See more of Chocolate Works' fitness center in our photo gallery.
Our pet-friendly Old City apartments are thoughtfully-designed with spacious 1- and 2-bedroom floor plans filled with luxury amenities. Ready to call Chocolate Works your next home? Contact our leasing team today to answer any questions and to schedule a tour!
Contact The Chocolate Works in Old City
---
Contact The Chocolate Works to learn more about our apartments for rent in Old City! Call our leasing office at 215-351-1535 to schedule a personal virtual apartment tour or FaceTime tour.
Address:
231 N. Third Street
Philadelphia, PA 19106
Hours:
Monday - Saturday: 9am - 5pm
Sunday: 12pm - 5pm