5 Reasons to Live in Old City Philadelphia
---
Explore the best apartments in Old City at The Chocolate Works and embrace the many reasons to live in Philadelphia. In the heart of the nation's most "historic square mile" and among charming 18th century architecture, our modern homes offer you urban convenience without compromising a rich lifestyle. Enjoy effortless opportunities and no-hassle commutes to leading restaurants, shops, and businesses in Center City.
Here are a few of the best reasons to live in Old City, Philadelphia:
1. Shopping & Dining
Old City's one-of-a-kind history is perfectly juxtaposed with trendy activities and places to go. Old City is packed with some of the city's leading restaurants and shops. There are more than 80 dining options in the neighborhood, from fine dining to corner cheesesteak shops. Fashion boutiques and home décor stores can be found on just about every street, earning Old City the honor of being known as the city's "Most Stylish Neighborhood." Old City locals love to explore the numerous cafes, galleries, and restaurants. On 3rd Street, Old City-ers love to visit the plethora of unique art galleries and clothing boutiques that fill the street. Stores of this kind are a defining factor of Old City, as many from the community gather every month for First Friday, an event where vendors fill the streets selling goods and art. These leisurely activities serve as a perfect lifestyle for those looking to slow down and relax.
2. Arts & Culture
Old City comes to life every First Friday, when galleries open their doors to the public to celebrate all things art. Art festivals, such as Old City Fest—which attracts thousands to the neighborhood every fall—celebrate the neighborhood's significant contributions to the city's arts and culture scene. While the list of daytime activities is endless, many enjoy ending the night off with a relaxing movie at one of the three Ritz movie theaters, all of which are scattered throughout the neighborhood. Tourists from around the globe flock to the area to visit Philadelphia's most-coveted attractions in the three-block section of Independence Mall. The Betsy Ross House, Benjamin Franklin Museum, and Museum of the American Revolution all lie within steps of each other. This convenience is one that is loved by both visitors and residents of Old City apartments.
3. Riverside Recreation
The fun of Old City doesn't stop there. One of the many reasons people adore this quaint neighborhood is for its nightlife. With the area being filled with many young professionals and students, lots of hot restaurants, lounges, bars, and clubs stay open as late as 5 a.m., creating a nonstop sense of liveliness throughout the city. Those who live in Old City, Philadelphia have easy access to one of the city's premier recreation spots: the Delaware River. Just blocks from The Chocolate Works, the riverfront has undergone somewhat of a renaissance in recent years, with the opening of beer gardens, restaurants, and entertainment venues. It is also a great place to exercise and take in the beauty of the city. Many venture to the river at Penn's Landing to catch concerts at Festival Pier, ice skate and rollerblade at the Blue Cross Rink, and grab some drinks at Spruce Street Harbor Park, depending on the season. Don't fret, though—this popping nightlife scene only spans about a three-block radius, allowing residents to enjoy quiet nights in their homes if they please.
4. Location, Location … and Transportation
Present-day Old City once made up the entire city of Philadelphia. The city's center is now a few blocks west, making Old City a prime spot for those who want to be near the hustle and bustle of Center City but just far enough away to enjoy a little respite from city living. Old City is livable without a car, however, as the area is revered for its easy access to public transportation via buses and SEPTA's Market-Frankford Line. This allows Old City apartment residents to easily navigate to surrounding areas, such as Rittenhouse Square and University City, as well as 30th Street Station for connections to Amtrak service.
5. Architecture & Historical Sites
A stroll through Old City, Philadelphia is an eye-opening experience. Old City—the place where William Penn and his fellow Quakers first settled—bursts with history from our country's first days. Located between Front, Sixth, Vine, and Walnut streets, Old City exudes 18th-century charm. While the oldest inhabited street in the United States—Elfreth's Alley—stands tall with cobblestone streets, row homes, and tight alleyways, the rest of Old City mimics this charming and nostalgic architecture. Due to this unbeatable amount of history, it creates a constant buzz and liveliness in the neighborhood all year round.
In Old City, people of all ages get a piece of the pie. The lively nightlife attracts young adults, students, and professionals. However, the quiet cobblestone street retreat into tranquility, attracting families, older couples, and retirees. The area is sought out as a place to visit and live by many because of the amount of versatility.
If you're looking for the perfect place to live in Old City, Philadelphia, contact a leasing specialist at The Chocolate Works and schedule an apartment tour today.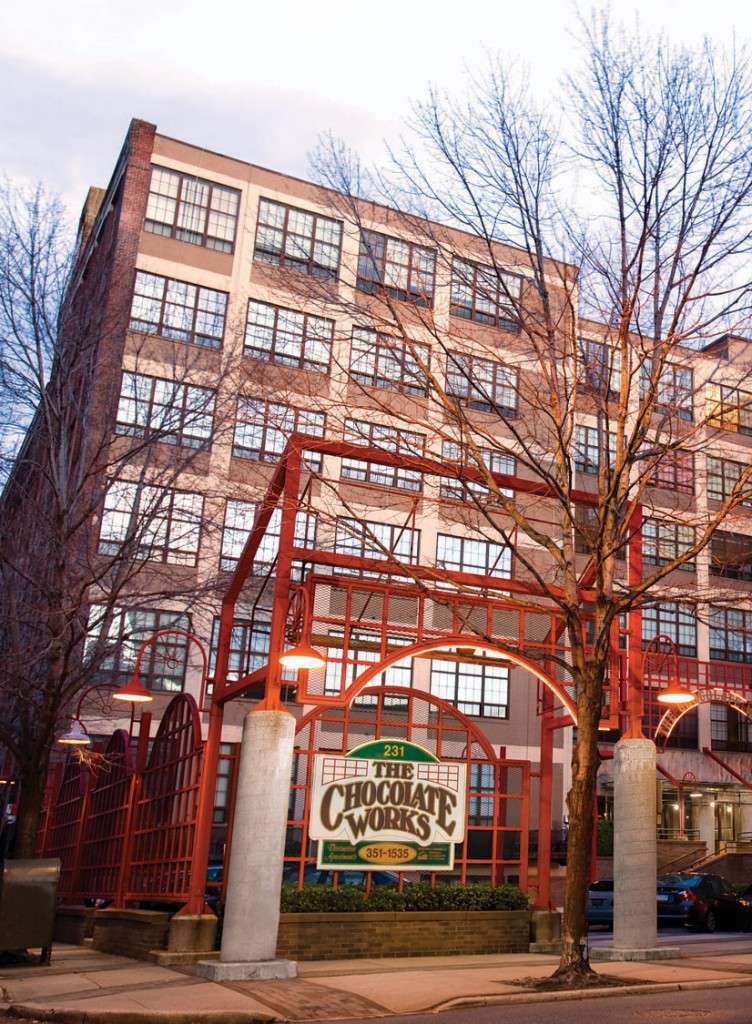 Contact The Chocolate Works in Old City
---
Contact The Chocolate Works to learn more about our apartments for rent in Old City! Call our leasing office at 215-315-1535 to schedule a personal virtual apartment tour or FaceTime tour.
Address:
231 N. Third Street
Philadelphia, PA 19106
Hours:
M-F: 10-6, SAT: 10-5, SUN: Closed
or anytime by appointment